Phoenix Ortho is excited about our new relationship with Konica Minolta. We were in the Konica Minolta Booth at AAOS this year demonstrating our seamless round-trip integration with ImagePilot.
Click here to read the Konica Minolta press release about this dynamic relationship.

---
ImagePilot includes: CR Console + Clinical Review + Image Storage.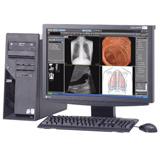 This all-in-one CR system simplifies digital radiography by combining these functions into one consistent, user-friendly interface. With ImagePilot, image acquisition is simplified. There is no need to indicate what type of exposure is being taken. And you don't have to struggle with exposure settings. The automated image processing produces an optimized image - every time - regardless of body part or exposure technique.